Three Things To Do Every Day
I believe there are three things you can do every day that can change the course of your life. Number one, expect God's goodness. Get up every day looking for God's favor. Number two, recognize God's goodness. There are no coincidences, no lucky breaks. It's all the goodness of God. And number three, always thank God for His goodness. Anytime something good happens, big or little, give God the glory. "Lord, thank You for that parking spot. Lord, thank You for that idea. Lord, thank You for sending me dew in my desert."
- Joel Osteen's message for today
I'd like to add to that last part "Lord, Thank you for making it possible to see Everlast tonight."
Tonight at the 100 Club London Ev is doing "An acoustic evening with Everlast" and this thing sold out immediately.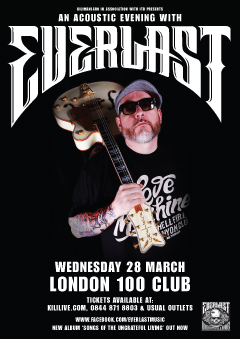 I only came across the date recently and spent the last week or so checking daily all ticket sites, ebay, gumtree, everywhere.
I've not had the pleasure of experiencing the 100 Club so really looking forward to it as the club has a rich history.
I got to see Everlast with House of Pain last year and he came out doing Apache and ended with some acoustic tracks when he didn't have to treat us to it. That's Everlast, always giving to the fans. It's been 20 something years and I'm so happy to be able to show my support and love for what he is doing.
So I started to get desperate today, and at the back of my mind settled on that I might have to roll up and buy off a tout at some crazy price but knew it'd be worth it. I also had an idea though that made me smile and didn't upset the wife too much, so i ran with it and the result is below -
I follow Everlast on twitter, along with some of my other musical heros and all of them have been crazy humble and absolute G(ent)s.
So work is coming to an end and I get this on Twitter -

What a legend. So excited and actually should head off to the club. Without a shadow of a doubt going to rock the house tonight. SA ALL DAY!!! Peace.

-Bossman75