What's proof without the Evidence?
I got the opportunity to see Dilated Peoples last week at The Garage in Islington. I'd known they were in Europe but hadn't caught wind of the London date until I saw Evidence tweet saying he had a couple tickets to give away. The show had been sold out long before and I had to try my chances.
This isn't the first time I've seen Evidence, I also saw him on the Carhartt x Rhymesayers Tour in 2011 with my buddy Mel. His energy blew me away that night, and if anything he was even more amped this time around. Being the last date of their European tour he'd have been forgiven for being tired but that's just not his way. I think they fact he was with Rakaa and Babu, plus Brother Ali in the wings gave him that fuel.
To anyone not fortunate enough to experience Dilated Peoples live, it's very easy for me to sum up the group for you -
Evidence - The
ENERGY
Rakaa Iriscience - The
PARTY
DJ Babu - The
CONTROLLER
Evidence
is passionate, articulate, graphic and you can relate to what he is saying with ease. Shit, you want to get involved from the start to the finish. He is big on crowd participation, and he gives it back and more usually with a stage dive or two thrown in for good measure. Worth mentioning Ev's involvement with Instagram as he was making a movie for this tour which promises to be something very special.
Rakaa Iriscience
, man what can I say. He prowled the stage, barely opening his eyes, belted out lyrics, got the crowd crazy hyped. He and Ev feed off each other with majesty. He blessed the crowd with a solo joint and I need to get hold of his album(s) and check that shit out.
I'd recently re-watched the documentary
SCRATCH
which featured
DJ Babu
, the inventor of the word
Turntablist
, and I was expecting big things from him. I love Hip Hop with a DJ and scratches. Turntablism and Hip Hop DJ'ing are different things, and DJ Babu doesn't blur the lines but is masterful at both. His cuts and scratches during the set were dope. His solo routine was out of this World. I swear he, Mix Master Mike, Q-Bert and others really are communicating with Aliens. The vibes you get from the guys is one of pure positive energy and peace. We may just have a chance through these guys should another race come to take over our home.
I think with regards to DJ's, Babu (Beatjunkies) and Premier (Gang Starr) are the leaders. There are other notables like Muggs (Cypress Hill) and Alchemist, also Ralph M (Funkdoobiest) all of which stay true to the art form and represent Hip Hop. But for me having just recently missed seeing DJ Premier in London, this was an honour.
I can't say enough about how much the crowd loved these guys. People came from all over Europe to catch this show. I met some crazy people, both men and women, and everyone left a little buzzed (lots of weed smoking indoors), exhausted and very happy. It took me a minute to warm up,
Brother Ali
did his thing and laced the venue with his clear vocals and message. He was born to preach, that's for sure. Later he joined the crowd to enjoy the Dilated set and welcomed fans asking for photos and a chat. Rumour was AD ROCK was also in attendance but this may have been misdirection on the part of Ev and Rakaa.
As for the
Garage
, I'd not been before and can say it's a nice little spot. Good sound, intimate and a decent bar. The only surprise was the early curfew, meaning the guys only had until ten fifteen to perform. They did that and more, afterwards returning to the stage to talk, sign anything and everything (mobile phones included) before security were sweeping everyone out. I got to thank Evidence for the ticket and get a snap for the blog. I already admired them for their work, and I feel I got to see an even more humbling side to these guys. Anyone who travels the World doing this and has that much love for the fans, nothing tops that.
I eagerly await their new album coming next year entitled "Directors of Photography". I'm still playing "Cats and Dogs" regularly and have pre-ordered "
Lord Steppington
" by Step Brothers (Evidence and Alchemist). Hip Hop is most certainly not dead, and for me the best is still from the West. SA ALL DAY. Peace.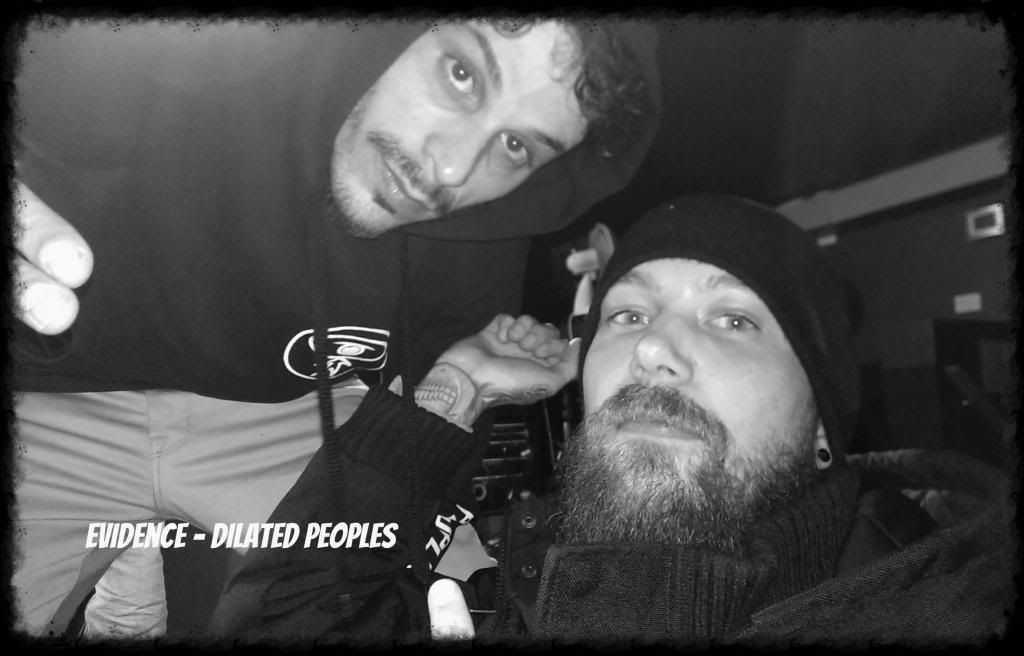 -Bossman75